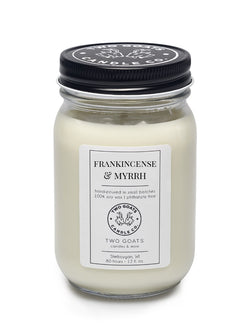 Two Goats Candle Co.
Frankincense and Myrrh
Derived from tree sap, frankincense and myrrh are fragrant resins highly valued for incense and perfumes. Our Frankincense and Myrrh candle captures the essence of these enduring scents used for millennia. Hints of citrusy bergamot and amber open up to a heart of resinous myrrh and frankincense. The wood and incense notes are softened by powder and oud in the base.

Note Profile:

Top: Bergamot
Middle: Amber
Base: Frankincense, Myrrh, Oud, Powder
Specifications:

Height - 5.13 inches
Outside Diameter - 3 inches

Made in Sheboygan, WI